With over 37 years of being a pro drummer, 9 years touring the World with The Searchers, Scott is one of those 'go to' drummers people call upon. 
Being click, score friendly and an all round nice guy, is why he gets picked for one off shows/deps or tours.
Scott can be reached by:
Email: scottottaway@hotmail.com
Phone: 07944 577004
Bands/tours to date.  
The Searchers 
We Will Rock You, Dominion Theatre. Dep 
The Pocket Gods 
Slice Of Saturday Night. Rugby Theatre
The Midnight Rebel Band
Fossey Tango
From The Ashes
The Trems 
John Altman
Mike Read
Owen Paul
Mungo Jerry
The 60s Gold Tour 
The Sensational 60s Tour 
Now I'm Here- Queen Tribute
Real Magic- Queen tribute 
Slightly Mad- Queen tribute 
Slyde- Slade Tribute 
CAIYO 
Miracle Cure Band
The Mix band
PX Productions. Ultra 90s- Anthems Live, shows
The Wish Tour- Percussionist 
Elliot Frisby 
The Elliot Frisby T.V Show 
Matt Shaw (Meatloaf tribute) 
P&O Cruises. Both as in house drummer & guest entertainer 
Costa Cruises. Both as in house drummer & guest entertainer 
Butlins, Skegness. In house drummer 
Hafan Y Mor, Haven. In house drummer (4th Dimension) 
Caister, Seashore, Hopton & Wild Duck. Haven (Evolution)
Trecco Bay, Park Dean. In house drummer (City Limits) 
Camber Sands, Park Resorts. In house drummer (Knightsounds) 
Tequilla Mockingbird 
The Elton John Experience 
The Powder Monkeys 
The Mix band 
Hustler 
As well as numerous T.V, radio & studio sessions.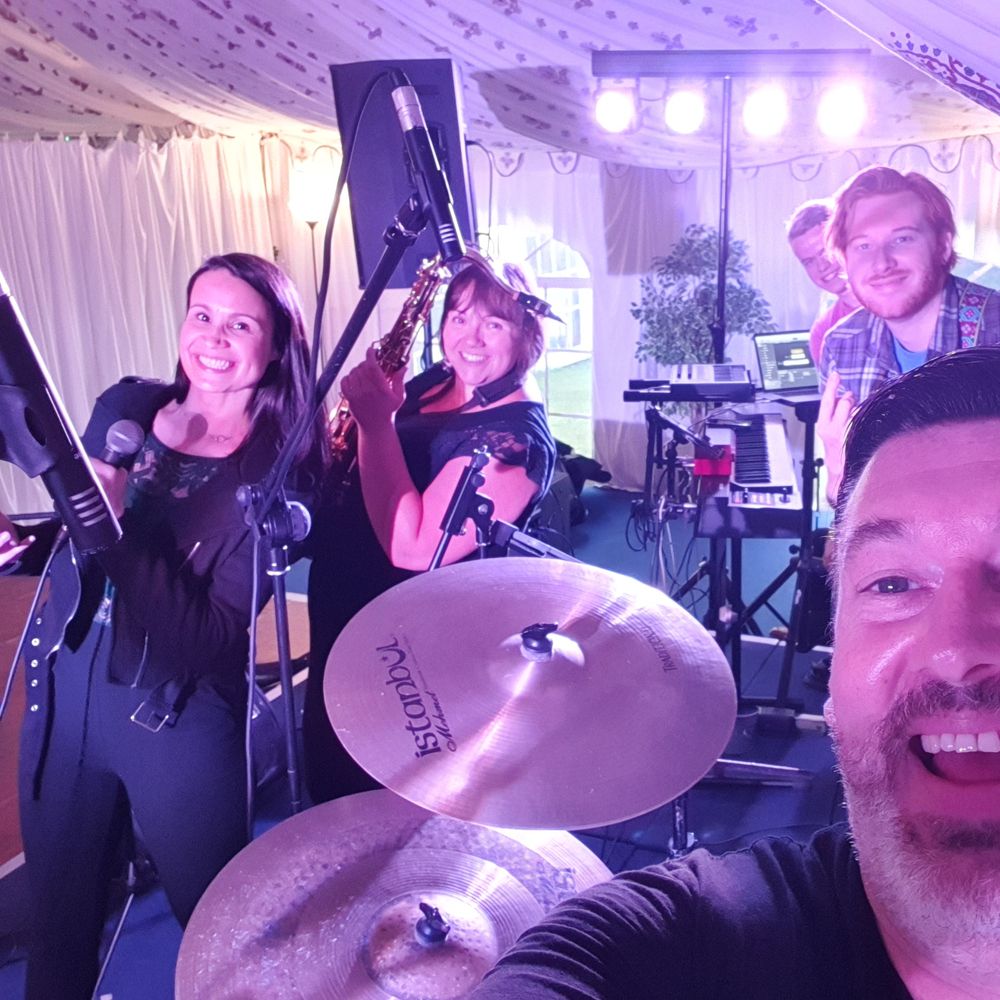 All Covered Up
Dep gig on July 27th 2019
Scott is a great drummer and it was really fun having him as part of our band. I highly recommend him to anybody looking for a reliable drummer, who is not only talented, but also has a shiny drum kit!
Adam 
Hi Scott, 
I just wanted to thank you again for helping us out at short notice when our drummer let us down for a private party booking. 
You had obviously done your homework and played the set of more than thirty songs flawlessly. Even when we deviated from the set list with several impromptu audience requests, you were able to take the lead and lay down a solid foundation for the band to follow. 
Although you had never even met the band before the event, you fitted in perfectly and nobody would have known that you were not a permanent member. 
I had several comments from the other band members praising the quality & sound of your kit and the accuracy of your interpretations – all true to the originals. 
The client was delighted and we also received many compliments from the guests. 
A pleasant and friendly guy to work with and a true professional, you will certainly be our first choice next time we need a dep. 
Regards 
Dave Evans. 
(AWOL  60s/70s Tribute Band)
"

Scott was totally professional in every respect. Having never played with us before, his drumming was impeccable and he dealt with everything the band threw at him effortlessly! He has a cheerful disposition and was very easy to work with. We very much look forward to working with him again"
"

Scott recently depped for our band and it was a great pleasure to work with him. Punctual, great player and good fun to work with! Thanks Scott!"
"

Scott Ottaway is a truly inspirational drummer. He has honed his skills over many years and he has accomplished what many professional drummers can only aspire to, and that is to be part of a legendary chart topping band, with several World wide tours under his belt. There can be no doubt what so ever that he is a consummate artiste with an impressive CV"
— Joe Chapman (aka Dozy Powell) Slyde
"

Just watching Roy Orbison black and White night DVD. Running Scared, brilliant, but in my opinion Spencers version is better, specially with Scott Ottaway drumming. "
— Sandra Godfrey